What is this fundraiser?
Mr. & Miss. Strive School of Music Fundraiser Competition. Strive School of Music is challenging you and your child/children to help us secure the future of this great company. With your patron and advertisement, Strive School of Music will create a Souvenir booklet that will be distributed at Strive School of Music's events throughout the year, such as this year's 2017 Summer program recital. Ad space in this Souvenir booklet is available for sale to the general community. The funds raised at this year's first annual Strive School of Music competition fundraiser goes to support many performing arts programs throughout the summer and school year.
** There is still time to secure an ad that will appear in our Souvenir Book for all of our recitals this year. **
Who benefits?
This fundraiser benefits current and future Strive School of Music students and employees. In addition, I will be able to purchase the company's 501c3, allow future students to attend Strive Summer Camp at a lower rate, and send graduates off with a Strive School of Music Scholarship. In addition, I will also, provide better instruments, games, supplies, extracurricular activities and facilities each year. The winner will receive free Summer tuition for four weeks.
What am I buying?
As a business, you are buying advertising space in our Souvenir booklet. As a parent, family member, or community member, you may buy any size space to relay your own personalized message. Available spaces are: full page $100, half page $75, quarter page $50, business card size $25, and personalized message spaces $10.
Why should I buy?
Businesses get several times the advertising for the price of one. Ads in our Souvenir booklet get community-wide exposure at a number of well-attended public events throughout the school year. At most of these events, ads are also running as a projected slide show at the front of the venue before the start of the event. For students receiving personalized messages, the Souvenir booklet makes a great memento. All proceeds benefit Strive School of Music.
Can I see a sample? See image below
How do I purchase?
There are 2 ways to purchase:
Purchase patrons and ads for Mr. and Miss. Strive online at www.striveschoolofmusic.com. Online payments are secured by Square up, but no Square Up account is needed - you may pay directly with a credit card. (When you get to the payment page simply click on the " Mr. and Miss. Strive School of Music" link to pay directly with your credit card.)
Buy the old-fashioned way using this form. All materials including the form, payment, and ad artwork must all be delivered to Strive School of Music as detailed on the form. For those who use the paper form to purchase an ad, you may mail it or send with parents of the Strive School of Music student.
Some important details:
Deadlines:
All artwork, payment, and forms must be submitted online or delivered to Strive School of Music by the end of the day, Monday July 17, 2017. The deadlines may be extended. You may buy ad space at any time before publication deadline in order to appear in the program book for all events following that deadline, so if you buy at the beginning of the year your ad will be in the Souvenir booklet for all events that year.
Where and how to submit payment and materials:
You may purchase your patron and ad through this website: www.striveschoolofmusic.com, or you may order an ad using the form attached. Artwork may also be submitted separately from an order emailing it to striveschoolofmusic@gmail.com.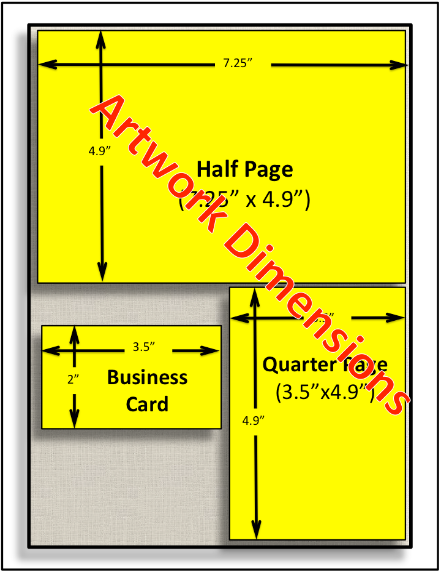 Artwork Requirements
Resolution: 300 dpi
Ads: Ads will be printed in greyscale. Artwork submitted in color will be converted but for best results we recommend submitting artwork that has been optimized for greyscale print.
Color (optional): Optional color artwork may also be submitted. Souvenir booklet ads will be projected on large screen prior to start of recitals and concerts. Color ads (greyscale if color not available) will be used for this display.
You may upload it later by using our email.
You may alternatively email it to striveschoolofusic@gmail.com .
Email: Strive School of Music with questions about this fundraiser and questions about artwork or online payments/orders.